Here are a few happenings this weekend we wanted to bring your attention to. For more events or to submit an event, go to our Events Calendar. And be careful out there – try to avoid slippery sidewalks!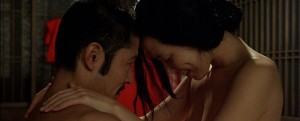 - Beginning this Friday, International House Philadelphia (37th & Chestnut) presents Free to Love: The Cinema of the Sexual Revolution. This is a groundbreaking series made possible with the support by The Pew Center for Arts & Heritage. The series will run through February 15. Here's this weekend's program (ADULT CONTENT): Friday, Jan. 10, 7 p.m. - I am Curious (Yellow); Sweden, 1967, 121 min. Saturday, Jan. 11, 5 p.m. – Pink Narcissus; US, 1971, 71 min. 7 p.m. – In the Realm of the Senses; Japan, 1976, 109 min. 10 p.m. – Deep Throat; US, 1972, 61 min. For more information and tickets ($9 general admission; free for IHP members) click here.
- Here's a reminder that the Electronics Recycling Day, which was supposed to take place last Saturday in Clark Park, has been moved to this Saturday, Jan. 11. Bring your old phones, computers and other electronic devices and gadgets to Clark Park at 43rd and Chester from 10 a.m. to 4 p.m. Electronics recycling is free of charge, with the exception of $20 charge for recycling cathode ray tube (CRT) TVs and monitors.
- Biunity's annual chocolate themed bake sale and fundraiser Death Bi Chocolate will take place at the A-Space (4722 Baltimore Ave) on Saturday, Jan. 11, 2-5 p.m. The event supports the only organization for bisexuals in Philadelphia and raises funds for appearances at pride events throughout the year, such as Philly Pride and OutFest. You can donate a chocolate baked good and enjoy the chocolates available at the sale, or just come and play board games with some friendly people.