This weekend there's an opportunity to show your love for your local parks as many events are scheduled in the area as part of the "Love Your Park" week held citywide. Here are some details: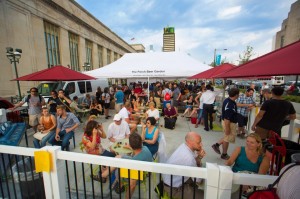 The Porch Beer Garden (The Porch at 30th Street Station)
Thursday & Friday (May 16 & 17), 3 – 8 p.m.
The Porch at 30th Street Station is hosting a two-day beer garden this Thursday and Friday. There will be live music by Perseverance Jazz Band (May 16), The Red Hot Ramblers (May 16), and Polkadelphia (May 17). Beer will be served by Bridgewater's Pub and the following gourmet food trucks will show up at the event: The Cow and The Curd (battered fried cheese curds), Local 215 (locally sourced seasonal foods), and Sum Pig (gourmet comfort food). For more information, visit the event's Facebook page.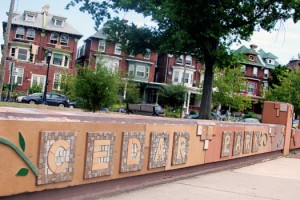 Picnic in Cedar Park (50th & Baltimore)
Friday, May 17, 6 – 8 p.m.
Cedar Park is celebrating "Love Your Park" week with a community picnic. You can bring your own food or pick up a coupon for a "picnic special" you can redeem at Cedar Park area businesses, including The Gold Standard Cafe, Dock Street Brewery, Hibiscus Cafe, Little Baby's Ice Cream and more. Click here for more details.
Barkan Park Clean-up (50th & Spruce)
Saturday, May 18, 2 – 4 p.m.
Show your love for Barkan Park this Saturday and help with clean-up, weeding, and planting. Tools and refreshments will be provided. For more information call Mark at 215-476-2983.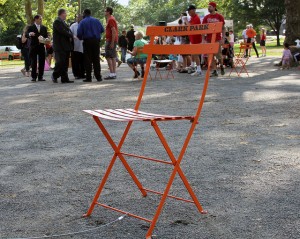 Party in Clark Park (43rd & Baltimore)
Saturday, May 18, 4 – 8 p.m.
The Friends of Clark Park are hosting a party in Clark Park in observance of "Love Your Park" week and everyone is invited. This free community event will include food, music, games and the park's first Beer Garden. At the party enjoy performances by West Philly based Pakistani musician Umer Piracha, The Philadelphia Women's Slavic Ensemble and On The Water. And here are the food vendors at the party: MiniTrini (gourmet Trinidadian food), The Cow and the Curd, Taco Angeleno (new West Philly based taco truck), and Lil' Pop Shop. Beer will be served by Dock Street and actually will cost $5, but if you join The Friends of Clark Park at the event you will receive a free beer ticket and can buy the next beers for $3.
By the way, also on Saturday Clark Park "B" at 43rd and Chester will be hosting Uhuru Flea Market from 9 a.m. to 5 p.m., so you can spend the whole day at the park, especially since the weather is expected to be nice and sunny.