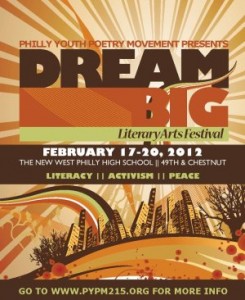 The Philadelphia Youth Poetry Movement, a non-profit organization helping Philadelphia youth discover the power of their voices through spoken word and literary expression, is bringing its 2nd Annual Dream Big Arts Festival's main program to West Philadelphia this Saturday and Sunday. The event actually kicks off a day earlier (Fri, Feb. 17) at the Franklin Institute. The West Philly part will take place at the new West Philadelphia High School building (49th & Chestnut) and will include poetry workshops, oratorical and spelling bee competitions, Youth Night Poetry Slam/Open Mic, and an MC Battle.
Black Thought from the legendary hip-hop band, The Roots, will be one of the judges at the Poetry Slam. This year the festival celebrates literacy, activism, and peace. It will culminate on Monday, Feb. 20, with a community service project.
For more information on the schedule, to register or to purchase tickets ($7-$15 youth; $12-$25 adult), visit the festival's homepage. The Friday Kickoff event at the Franklin Institute (222 N. 20th Street), with Mayor Michael Nutter in attendance, will be held from 4 – 6 p.m. and is free and open to the public.