The goal of a new, large exhibition opening at the Penn Museum (3260 South Street) on Saturday, March 1 is to help us leave preconceptions about Native Americans behind. "Native American Voices: The People—Here and Now" is a rich and highly interactive show that features a wide range of contemporary Native North Americans – artists, activists, journalists, scholars, and community leaders. They speak out in video and in audio, sharing stories, poetry, and short essays on issues that matter to them today: identity, political sovereignty, religious freedom and sacred places, language, celebrations, art, and cultural continuity.
Besides a central introductory video, touch screen towers and multimedia stations are placed throughout the gallery, allowing visitors to encounter Native American perspectives on key themes.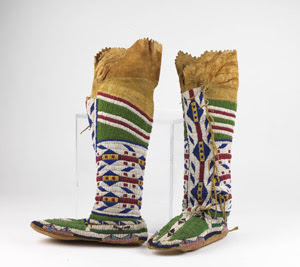 The exhibition will have on display over 250 Native American objects—ranging from 11,000-year-old Clovis projectile points to contemporary art, which will help to tell the stories of Native American peoples today, their aspirations, histories, art, concerns, and continuing cultural traditions.
The exhibition opening will take place from 11:00 a.m. to 4:00 p.m. and will include Native American music and dance, presentations by Native American community leaders from around the country, as well as arts, crafts, workshops and children's activities—all free with Museum admission.
For more information, visit this page.