Sweet, loveable Beatrix is in search of a forever home – not just for the holidays! She's a 1-2 year old playful pretty girl! She loves playing tug and fetch! She also loooooves people! When she sees a new person she gets the butt wiggles! She's a young girl so she still has some of her puppy ways! She's actually named after Beatrix Potter because she hops and bounces and spins just like a bunny rabbit!
Beatrix is really good about sharing her toys. She's kind of scared of other dogs though. She does well with really young puppies and her brother – she came in the shelter with her brother. His name is Cleveland and he's awesome too, just like Beatrix.
Bea is up-to-date on all of her shots and will be spayed and microchipped when you take her home. Awesome, right? She has two special people dedicated to keeping her happy in the shelter. You can contact them by sending an email to: todorov.lulu@gmail.com. Come meet her soon and bring everyone in your family (dogs included) to make sure she is a good fit for everybody!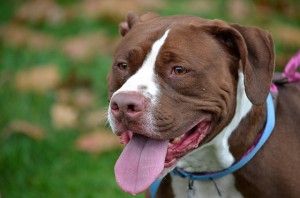 You love chocolate, right? Then you'll love Murphy! He's a young, handsome fella with a beautiful dark red brown coat. Murphy is trying to get out of the shelter and into a loving, caring home for the holidays.
Murphy loves to say hello to everyone and is very friendly. He loves to walk on a harness and will barely pull you which make the walks much more pleasant. He loves a game of fetch with a tennis ball and is learning "Drop it" very quickly.
He weighs in at only 50 lbs and is a medium-sized dude. And the best yet: he is housetrained too! He is also up-to-date on all of his shots and will be microchipped and neutered before he comes home with you.
Send an email to todorov.lulu@gmail.com with any additional questions or come on down to the shelter and meet him. You will not be disappointed once you see this handsome mug in person!
Beatrix and Murphy reside at:
ACCT (Philadelphia Animal Care and Control Team)
111 W. Hunting Park Ave.
Philadelphia, PA 19140
Tel.: 267-385-3800, Extension 0 for front desk and 116, 117, 118 for Adoptions.
Adoption hours:
M-F: 1pm-8pm
Sat & Sun: 10am-5pm
Interested in fostering? Here are the hours you can come in and talk about it:
Mon-Sun: 9am-6pm
Adoption Specials:
Saturday & Sunday, December 15 & 16: Santa Paws Adoption Extravaganza!
-All adoption fees are 50% off!
Thursday, December 20: National Re-gifting Day!
-All adoption fees are 50% off!
Friday, December 21: National Underdog Day!
-All animals that have been at ACCT more then 2 weeks are 50% off,
animals here more than 3 weeks are pick your own adoption price.