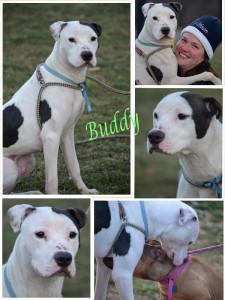 Meet Buddy! This handsome fella is looking for a family of his own, and boy would he be a great addition! He's about 5 years old, but he still has plenty of love and energy to share. He loves to run and play, and loves fetching sticks.
Buddy is very affectionate and absolutely loves being around people as well as other dogs. He has played with some new doggie friends at the shelter and did great. He is also terrific with people. He loves to goof around and show lots of affection. If you have any children under 10, please bring them along to meet him. If you have any resident dogs, please bring them along as well to make sure they're a good match. Come meet Buddy today, you'll be glad you did!
Here's a video of Buddy learning the hoop trick.
This is just one of the many wonderful dogs in urgent need of adoption, foster care, or rescue at Philadelphia's animal control shelter, ACCT. You can stop down and meet them, and after filling out an application with shelter staff, interact with them 365 days a year at the shelter located at 111 W. Hunting Park Avenue in Philadelphia. Please check www.acctphilly.org for hours.
To check the status of an animal, call 267-385-3800 or email acctpetfinder@gmail.com.