Uhuru Furniture and Collectibles
Add to calendar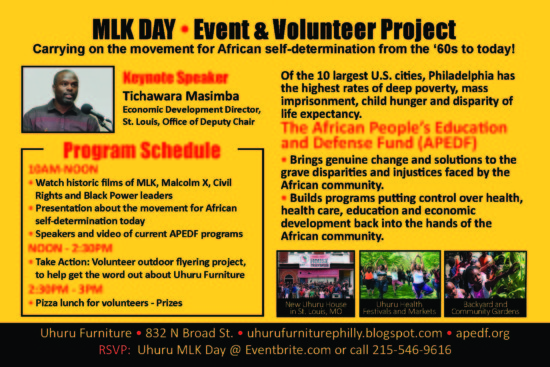 Jan. 15, 10 a.m.-3 p.m.
Make your MLK significant and meaningful! Participate by helping bring in resources for health and economic development in the black community through this volunteer activity with Uhuru Furniture and Collectibles, and economic development project of the African Peoples Education and Defense Fund (APEDF).
The two hour program starts at 10am  with historic clips about MLK and the Civil Rights Movement, community discussion about the ongoing struggle for justice by the black community and the continuing work of the African Peoples Education and Defense Fund today. The outreach service project begins at noon.
Volunteers will work in teams to spread the word about UFC's fast and free  donation pick up service by hanging door flyers in designated sections of the city. Brief training snack and water will be provided. The day of service is concluded by a complimentary pizza lunch for all.
Register here: https://www.eventbrite.com/e/mlk-day-event-volunteer-project-tickets-39665046221
832 N Broad St, Philadelphia, PA 19130, USA