Add to calendar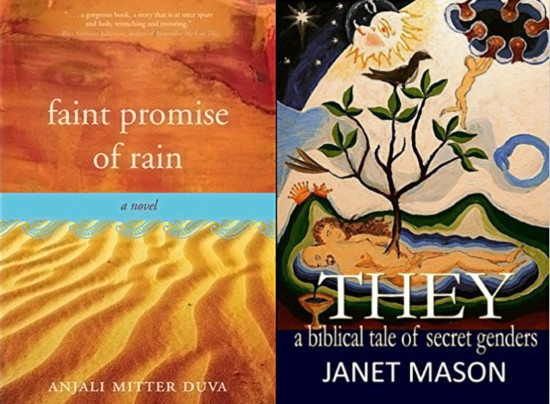 Religion and spiritual tradition, and the way they affect our identities, are difficult subjects to tackle in fiction. But the January 30 All But True reading features two novels that do exactly that, in very different ways.
In Faint Promise of Rain, Anjali Mitter Duva takes us to the Rajasthan desert in 544. On a rare night of rain, a daughter, Adhira, is born to a family of Hindu temple dancers. Fearing a bleak future, her father puts his faith in tradition: he insists Adhira "marry" the temple deity and give herself to a wealthy patron. But after one terrible evening, she makes a life-altering choice. Filled with the sounds, sights, and flavors of the Indian desert, Faint Promise of Rain is the story of a family caught between art, duty, and fear in a changing world. The novel was shortlisted for the William Saroyan International Prize for Fiction and the Chaucer Award for Historical Fiction.
"Describes the sacred dances so vividly that the reader can almost hear the dancers' feet hitting the floor and the tinkling of ankle bells." —Library Journal
In They: A Biblical Tale of Secret Genders, Janet Mason offers characters from the Hebrew Bible—reinterpreted. Tamar lives with her pet camel in the desert, content with her life and happily barren. But her twin sister, Tabitha, becomes pregnant after seducing a muscular young shepherd. Tamar plots with Tabitha to trick the patriarch Judah into believing that the baby is his so that the mother can have status in society rather than being burnt at the stake. Then Tabitha gives birth to twins, who are both intersex. As Auntie Tamar becomes deeply involved in the children's lives, the story's sly humor sheds light on our own often-complex identities.
Janet Mason's previous book, Tea Leaves, a memoir of mothers and daughters (Bella Books, 2012), received a Goldie Award and was chosen by the American Library Association for its 2013 Over the Rainbow list. Janet is also the author of three books of poetry.
130 S 34th St, Philadelphia, PA 19104, USA