Add to calendar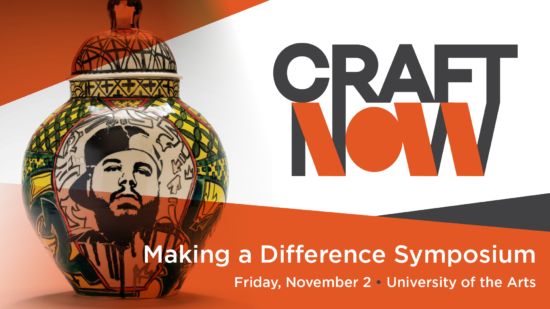 Each year, CraftNOW hosts a free symposium to provide a platform for critical discourse in contemporary craft. This year's day of talks and moderated discussions surrounds the theme Making a Difference and is generously hosted by The University of the Arts and sponsored by American Craft Council, Freeman's and Rago Auction. Presentations focus on the use of craft and making to promote positive change, social cohesion and meaningful dialogue.
Roberto Lugo is the keynote speaker presenting Pottery Saved My Life. In Lugo's words, his experiences as a poor, brown kid from the ghetto of Kensington Philadelphia have provided years of research from which his work as a potter, activist, culture-maker, rapper, poet, and educator. Lugo will share his journey with audiences as evidence that craft and making can ignite change and save lives.
This event is free and open to the public. An RSVP is required to attend the networking brunch. An RSVP is also recommended for large groups. Please email leila.cartier@craftnowphila.org to make your reservation.
211 S Broad St, Philadelphia, PA 19107, USA