This is a continually updated list of non-profit and civic resources.  If you know of any that need mentioning or updating, give us a shout at editor [at] westphillylocal.com.
Civics 101
Neighborhood community associations
Spruce Hill Community Association
Walnut Hill Community Association
Cedar Park Neighbors
NEW listing! Cobbs Creek Neighbors (Facebook page)
NEW listing! Belmont Alliance Civic Association, CDC
Powelton Village Civic Association
Garden Court Community Association
Overbrook Park Civic Association (Facebook page)
Neighbors of Overbrook
Neighborhood business associations
Baltimore Avenue Business Association (BABA)
Lancaster Avenue 21st Century Business Association (LA21)
Elected officials
Councilwoman Jannie Blackwell (City Council District 3)
Congressman Chaka Fattah
State representative James R. Roebuck Jr.
Assorted non-profits
ACHIEVEability
Families Forward Philadelphia
West Philly Tool Library
The Enterprise Center Community Development Corporation
Calvary Center for Culture and Community
Books Through Bars
Center for Literacy
Lancaster Avenue Autonomous Space (LAVA)
People's Emergency Center
Youth Service, Inc
Keep Philadelphia Beautiful
University City District
West Philadelphia Alliance for Children
Wheels For Wishes
Food/Nutrition
Agatston Urban Nutrition Initiative
Mariposa Food Coop
Mill Creek Farm
The Food Trust
Farm to Philly
Food in Jars
Table Matters
Philly Stake
Philly Rooted
Urban Tree Connection
Greensgrow Farms
Farm 51
West Philadelphia Fresh Food Hub (Facebook page)
West Philly Foods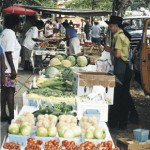 Clark Park Farmers Market
Where: 43rd St. & Baltimore Ave.
When: Thursday, 3pm-7pm (in season); Saturday, 10am-2pm (year round)
University Square Farmers Market
Where: 36th at Walnut Street
When: Wednesday, 10am-2pm (in season)
Drexel Farmers Market
Where: In front of McAlister Hall at 33rd and Chestnut streets
When: Tuesdays, 11AM-3PM (2010 dates are April 20-November 23)
Lancaster Ave. Farmers Market
Where: East of 38th St. at Powelton and Lancaster Aves.
When: Saturday 10 am – 3 pm (year round)
Radian Farmers Market
Where: 3925 Walnut St.
When: Fridays, Noon – 2 pm (June-July)
Gardening/Landscaping
Community Gardens
University City Garden Club
UC Green
West Philadelphia Landscape Project
Bartram's Garden
Mill Creek Farm
Chester Avenue Community Garden
4713-15 Chester Avenue
Jessica Ardis, (215) 500-5735, radiantyogawellness@gmail.com
Number of plots: 25 – 30
Number of gardeners: 25
Waiting list: yes
Length of wait: (usually short)
Has fruit trees and a central lawn; plots are in the back
Supported by Neighborhood Gardening Association
Gardens @ Cedar Park
49th & Baltimore Avenue
Maureen Tate, 215-726-8664,
tatemch@aol.com
Volunteers needed to maintain garden beds in community park!
Garden Court Community Garden
47th and Spruce Streets; includes tennis courts
Nancy Geryk 215-472-3347, s.geryk@verizon.net
Number of plots: 21
Number of gardeners: 21 (maximum)
Waiting list: yes
Length of wait: 1-2 years
All gardeners are expected to participate in two workdays per year
Gray's Ferry Garden
47th and Gray's Ferry Ave. (south of bridge)
Terri Mushovic, NGA 215-988-8797
Number of plots: 25
Number of gardeners: 10
Waiting list: no
Length of wait: plots available!
Water use fee, workday help expected
Vegetable, flowers, fruit trees.
Supported by Neighborhood Gardening Association
Looking for energetic new gardeners!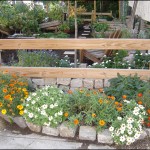 Holly Street Neighbors Community Garden
321-323 North Holly Street (between 41st& 42nd Sts., Powelton Ave. & Baring St.)
Sheila Henry, 215-387-0507
Winnie Harris (215)382-0579, winnieharris2003@yahoo.com
Number of plots: 14
Number of gardeners: 10
Waiting list: None – Plots Available!
Water $5 monthly
4 Workdays required per season
Looking for energetic new gardeners!!!
– photos
Martin Community Garden
41st & Chester Avenue
Lauren Leatherbarrow, (215) 386-3905, openn@earthlink.net
Number of plots: 10
Number of gardeners: 10 maximum
Waiting list: no
Length of wait: next season
Water use fee $10/year per plot; workday help expected.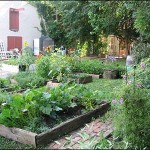 Sloan Street Community Garden
326 N. Sloan Street (between 39th and 40th & between Powelton and Baring)
Carolyn Smith, (215) 387-5852 , smith330@aol.com
Vegetable/Flower Garden Plots: 4 feet x 8 feet or 4'x4′ half plot
Common areas with both vegetable and flowers for sharing or growing food for community
Number of plots: 19
Number of gardeners/garden supporters: 24
$10/plot, $5/half plot. Water is $2/month. Help with common areas.
Waiting list: new gardeners welcome!
– photo
St. Bernard Community Garden
1000 S. Bernard Street
Tonya Histand, 215-668-3073, tonyahistand@verizon.net
Number of plots: 22
Number of gardeners: 52
Waiting list: yes
Length of wait: 2-3 years
Summer/Winter Community Garden of Powelton Village
Summer & N. 33rd Streets
Joe Revlock, (215) 387-0341, joseph.revlock@verizon.net
Number of plots: 37
Number of gardeners: 60+
Waiting list: no
Length of wait: plots available!
University City Garden Club Garden
44th and Locust Streets
http://www.home.earthlink.net/~ucgc/
Lauren Leatherbarrow (215) 386-3905, openn@earthlink.net
No vegetable plots, this is a flower garden.
Twilight gardening from 6-9pm on Fridays during growing season.
Volunteers welcomed!
Warrington Community Garden
4700 Warrington Avenue
Steve Payne, 215-724-8131, steve@vortexhouse.org
Number of plots: over 60
Number of gardeners: over 60
Waiting list: yes
Length of wait: at least two years
Supported by Neighborhood Gardening Association
www.ngalandtrust.org/
– photo
West Powelton Concerned Community Council Garden
4027-4029 Powelton Avenue
Phyllis Hinnant 215-387-8951
Number of plots: 14
Number of gardeners: 6
Waiting list: no
Length of wait: plots available!
4 Workdays Required Per Season
Looking for Energetic New Gardeners!
Arts and Cultural Organizations
Neighborhood Time Exchange: West Philadelphia Artist Residency
University City Arts League
Curio Theatre Company
West Philadelphia Orchestra
Community Education Center
Institute of Contemporary Art
International House Philadelphia
Spiral Q Puppet Theater
University of Pennsylvania Museum of Anthropology and Archaeology
The Rotunda
40th Street Artist-in-Residence-Program
Danger Danger Gallery
Ellen Powell Tiberino Memorial Museum
Mandell Theater at Drexel University
Annenberg Center for the Performing Arts
Crossroads Music
Philadanco
Philadelphia Boys Choir and Chorale
Philadelphia Folklore Project
Play On, Philly!
Shakespeare in Clark Park
Keepers of the Culture
Junction Dance Theatre
Group Motion Dance Company
The Paul Robeson House
World Cafe Live
Religious/Spiritual
Beulah Baptist Church
Calvary United Methodist Church
Hickman Temple AME Church (50th and Baltimore)
Covenant Community Church
Kol Tzedek Synagogue
Saint Francis de Sales Catholic Parish
St. Agatha-St. James Catholic Church
St. Mary's at Penn
Masjid Al-Jamia (Facebook page)
The Association of Islamic Charitable Projects
West Philadelphia Mennonite Fellowship
West Philadelphia Seventh Day Adventist Church
Vineyard Community Church
Health/Wellness
West Philly YMCA
Studio 34 Yoga
The Thrive Fitness and Wellness
University Wellness Center
West Philly Lactation
Village Care Family Services, Inc.
Schools/Libraries
High schools
Boys' Latin of Philadelphia Charter School
West Catholic Preparatory High School
West Philadelphia High School
Elementary schools
Alain Locke School
Community Education Alliance – Belmont Charter School, Belmont Academy Charter School
Henry C. Lea Elementary School
Penn Alexander School
Penn Alexander Home and School
Samuel B. Huey School
Samuel Powel Elementary School
Powel Home and School Association
Spruce Hill Christian School
Pre-schools/Early childhood
Children's Community School
The West Philadelphia Cooperative School
St. Mary's Nursery School
Parent Infant Center
Philadelphia Head Start Partnership
Philadelphia Cathedral Early Learning Center
Libraries
Walnut Street West branch of the Free Library
Kingsessing branch of the Free Library
Lucien E. Blackwell West Philadelphia Regional Library
Education reform
West Philly Coalition for Neighborhood Schools
Media
Scribe Video Center
University City Review
Westside Weekly
WPEB • community low-power fm station.
WXPN • public radio
Philadelphia Independent Media Center
Prometheus Radio Project
Media Mobilizing Project
Transportation
Bike network (City-sponsored organization)
Neighborhood Bike Works
Bicycle Coalition of Greater Philadelphia
SEPTA Route Maps/Trip Planner
Indego Bike Share
Parks
Barkan Park
Bartram's Garden
Clark Park
Malcolm X Park (Facebook page)
Saunders Park
The Woodlands Historic Mansion and Cemetery
Kids
West Philadelphia Alliance for Children
All Around this World
Turning Points for Children Community Umbrella Agency #9 (West/Southwest Philadelphia)
Pets
Project M.E.O.W.
City Kitties
Chester Avenue Dog Park
Red Paw Emergency Relief Team
Recreation
West Philly Runners
Class of 1923 (Penn ice rink)
Youth Soccer at Clark Park
Laura Sims Skate House in Cobbs Creek Park (Facebook page)