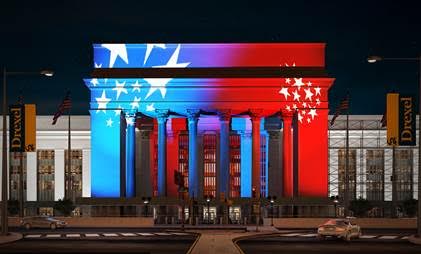 A patriotic lighting installation will greet the thousands of people expected to visit 30th Street Station before, during and after the four-day Democratic National Convention (July 25-28). The programmable system of color-changing LED fixtures will sweep stars and swaths of red, white and blue across the station's 29th Street facade.
This light show is sponsored by Amtrak and the University City District and is one of several across the city to welcome DNC attendees.
The lights will be projected onto the station's 29th Street facade from 8:00 p.m. – 3:00 a.m. every night through July 31.