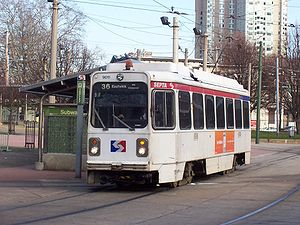 It's that time of the summer again. The 2017 Trolley Tunnel Blitz, SEPTA's catchy name for the annual construction and maintenance project inside the trolley tunnel to Center City, will take place July 7 – 17, according to an announcement by SEPTA. During the Blitz, which will begin at 10 p.m. on Friday, July 7, SEPTA Trolley Routes 10, 11, 13, 34 and 36 will not operate in the tunnel, but will be diverted to 40th and Market Streets.
Passengers are advised to use the Market Frankford Line for traveling to Center City or board the train at 40th and Market where trolley service will begin and end during the Blitz.
This is the fifth consecutive summer SEPTA has held the Trolley Tunnel Blitz. During this year's nine-day tunnel closure, members of SEPTA's in-house Engineering, Maintenance & Construction Division crews will work around-the-clock on power, track and station improvement projects, according to SEPTA's announcement.
The tunnel will reopen at 5 a.m. on Monday, July 17.
For more information, visit: http://www.septa.org/blitz/.