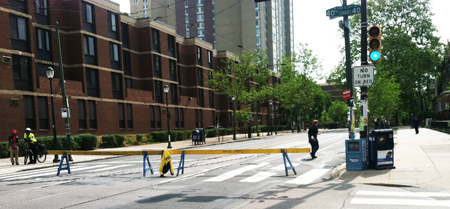 This is this time of year again when the Penn's campus portion of Spruce Street gets closed to allow a smooth move-in for students.
On Tuesday, Aug. 22 and Wednesday, Aug. 23, Spruce Street will be closed to all traffic (including bicycles) from 34th to 38th Street, between 6:00 a.m. and 8:00 p.m. On Saturday, Aug. 26, Spruce Street will be closed from 38th to 40th Street, between 7:00 a.m. and 7:00 p.m.
Septa buses will be rerouted around the closure (please check septa.org for specific bus routes and detour info). Penn Police will be on scene to assist with traffic detours.