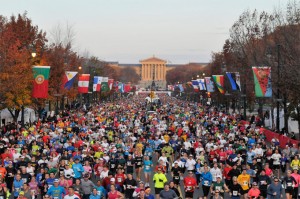 The 23rd annual Philadelphia Marathon activities will take place from November 18-20. The half marathon will take place on Saturday, Nov. 19 and the full marathon will be held on Sunday, Nov. 20. Here's some important information for those who are planning to attend and those whose plans may be affected due to street closures.
Marathon Races, Activities, Cheer Zones
Here you can find information on weekend race activities, and information on the races is available here. Information for fans, including cheer zones, can be found here.
Street Closures
Streets will be closed in many parts of the city in connection with the marathon on the weekend of Nov. 18 – 20. Delays can be expected. Motorists are advised to use alternate routes, avoid areas along the race course, allow for extra driving time and proceed with caution during Race Weekend. Due to increased security in the Parkway area, parking and traffic regulations will be strictly enforced. Street closures will be enforced on a rolling basis as runners go by.
Some of the major areas impacted include:
• The Benjamin Franklin Parkway Friday, Nov. 18 through Sunday, Nov. 20
• Citywide along the 26.2-mile route of the Philadelphia Marathon on Sunday, Nov. 20
• The I-676 off-ramps at 22nd Street (westbound) and 23rd Street (eastbound) will be closed on Saturday, Nov. 19 and Sunday, Nov. 20 after 4 a.m. for event security preparation. Ramps at 15th/Broad may also close, if needed.  Continue Reading