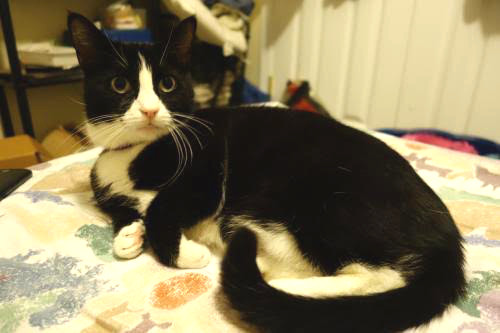 This week's featured adoptable cat is Anabel, an adult female medium-sized "tuxedo" cat.
Anabel is a professional cuddler – she can be found on or near you at all times. She doesn't have many demands, just needs you to cuddle her immediately upon getting home. She will also require the use of your lap, the space by your pillow, and your back or stomach when you lie down.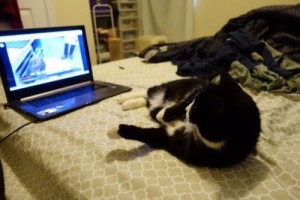 You must regularly scratch the spot between her front legs but not down any further! Also, she must purr in your ear at least ten minutes daily. If you are sad or feeling ill, she'll find a place near you and stay there until you feel better. Finally, your undivided attention is required, so please don't bring any other cats around. She plans on returning the favor, as she'll be following you to any room and sleeping with you every night. But that is all. See? Anabel is not a diva!
Anabel prefers to be in a one-cat home.
She is spayed, FeLV and FIV negative, current with shots, treated for fleas and worms, and is litter box trained.
To adopt this cat please complete and return a PAWS adoption application to ProjectMEOWAdoptions@gmail.com or mail it to: PO Box 32078, Philadelphia, PA 19146. The adoption application is available at the Baltimore Pet Shoppe (4532 Baltimore Ave), or online. Please use number A28564499 when applying to adopt this cat.
This cat is being fostered through the partnership of Project MEOW and PAWS. For additional information, contact projectmeowadoptions@gmail.com