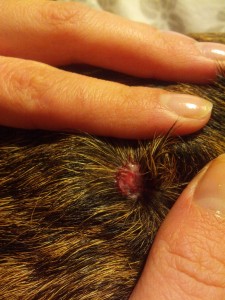 Earlier this week we posted an announcement from a reader, Nati, who was looking for the owners of a dog that had bitten him while he was riding his bike. Nati was trying to prevent a painful series of rabies shots and, fortunately, the dog owner stepped forward after the publication.
Here's another, disturbing account of a dog attack that happened yesterday at The Woodlands Cemetery. Reader Krissy Kim reported that while on a walk with her dog at the cemetery another, off-leash dog approached them, attacked and bit her dog. Here's what Krissy wrote in an email:
"Yesterday, Thursday 2/28, my husband and I were walking our dog on leash at Woodlands Cemetery. Another dog off leash approached her, they greeted each other appropriately (the owner was still about 50 yards away) when all of the sudden the dog attacked our dog, my husband had to pull him off and body block him during his second lunge for our dog. The dog bit her on the back of the neck and didn't let go until my husband again pulled him off. At this point the owner was there and did nothing but say, "relax there is no blood". He then proceeded to get in his car with his dog and drive away. After they left and we checked our dog, he indeed took a small chunk out of her neck (see photo). The vet visit with her antibiotics cost $75."
According to the cemetery rules, dog walking is allowed, but all dogs have to be on a leash.
Krissy is urging the dog owner to come forward and take responsibility for what his dog did. Krissy says that she has information on this person's car and license plate number. She described the attacking dog as a medium (40 pound) brindle mixed breed.
She adds, "On  the heels of the "biker being bitten" story hopefully this will continue to be an example of how we all need to step up and be responsible pet owners for the sake of our community."
Krissy can be reached by email: krissykp@gmail.com
Editor's Note: We would appreciate any comments except for those blaming certain dog breeds instead of irresponsible owners.