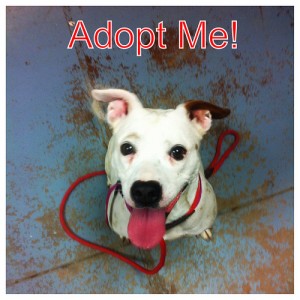 Chili is one of the ACCT shelter pups that have a cold and need a warm couch to recover. She is an extremely sweet middle aged gal looking for a new forever home. She came to the shelter as a stray so now she's ready to hop into your home and love you forever!
Chili also has an adorable and awesome personality. She's about five-six years old so she's the perfect age for you if you are looking for a chilled out middle aged dog who wants nothing more than love and affection. She is full of personality and she always has a smile on her face. She is very well behaved and she is happy to do whatever you are doing, she's just a go with the flow type of dog.
She's easy to handle and she walks well on the leash. She is a dog who will be happy to go on a walk with you, go out to lunch with you, play with toys by your feet, or curl up in your lap. She really loves making new friends, especially people friends.
You might chuckle at her because she has a sausage-like body and a small head but it's what makes her adorable! She could stand to get in better shape but it's nothing a proper diet and some walks won't fix! Chili loves her treats and also really loves to play fetch with a tennis ball and she doesn't mind it when you take it from her to throw again. She did well with the dogs she has met so far at the shelter, especially ones who are chill and mellow like her.
Chili is a fun girl to be around and she can't help but make everyone around her smile, so bring her home and she'll make you smile every day. If you want to find out more information about this dog or if you would like to meet her you can email her two friends who hang out with her a lot at: Always8bball@aol.com or Anastasiam1981@yahoo.com.