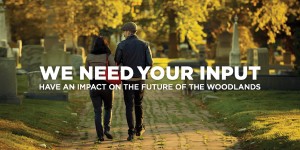 Do you visit The Woodlands whether it is for jogging, dog walking, nature or leisurely walks or other activities? Now you can be part of the Woodlands planning and have an impact on the future of this beautiful historical site.
The people involved with preservation and development of the Woodlands cemetery and mansion would like to hear from you. They have prepared a community survey asking about your use of The Woodlands as well as about your favorite places there. The information gathered will help make improvements to the site "that align with how our community enjoys the space."
To fill out the survey, click here.
This summer, on June 5, The Woodlands is hosting the 3rd Annual Benefit, with cocktails, hors d'oeuvres, music and more. The benefit guests will get a chance to kick off the fully-funded $1 million project to preserve the Cryptoporticus (a covered gallery) and North Terrace, and peek into the basement servant's quarters. For more information, visit The Woodlands website.