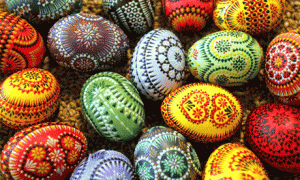 Three Easter egg hunts are on tap in the neighborhood on Saturday.
• Malcolm X Park – The 20th Annual Easter Egg Hunt at Malcolm X Park is Noon- 3pm. It's a free event with drill team, face painting, line dancing, DJ. Volunteers are needed to help out with the set-up. Call Helen at 215-476-0983 or just show up and enjoy!
• St. Mary's at 3916 Locust Walk will host a hunt for children 13 years and under at 4 p.m. rain or shine. Please bring your own basket. Light refreshments will be available for adults. For more information call 215-386-3916.
• Children up to 8 are invited to Clark Park "B" for a hunt hosted by Renewal Presbyterian Church also at 4 p.m. For more information call 215-727-7200.
• The "Great Egg Hunt" will be at the Walnut Street West Library (40th and Walnut) at 1 p.m.