The Easter weekend is approaching fast so many parents are looking for egg hunt opportunities in the neighborhood. Here are a few possibilities. If you know of more egg hunts please let us know at: editor@westphillylocal.com
Saturday, April 19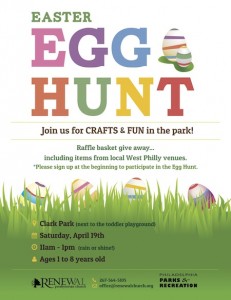 Clark Park (43rd & Chester), 11 a.m. – 1 p.m.
Kids ages 1 – 8 are invited for an Easter Egg Hunt and some Easter fun at Clark Park from 11 a.m. – 1 p.m. The event will take place rain or shine! Along with the hunt, there will be some crafts and raffle prizes at the end (see the flyer for more information).
Walnut Street West Library (40th & Walnut), 10 a.m. – 3 p.m.
Children ages 5 years and under are invited for an egg hunt from 10:00 – 11:30 a.m.. An egg hunt for kids ages 6-12 will be 1:00-3:00 p.m..
Woodland Presbyterian Church, 42nd and Pine Sts (42nd Street lawn), 12:30 – 2:00 p.m.
There will be two egg hunts: for kids under 5 years – 1:00 p.m.; for 5 and up – 1:15 p.m.
The event will include face painting, balloon animals, and crafts. For more information, visit: www.woodlandpres.net
NEW: Malcolm X Park (52nd & Pine), 2 – 5 p.m.
Friends to Elect Algernong Allen is hosting an Egg Hunt for kids and a Voter Registration Rally for adults at Malcolm X Park on Saturday, from 2 – 5 p.m.
Sunday, April 20
St. Mary's Church at Penn (Locust Walk near 40th)
St. Mary's Annual Community Easter Egg Hunt will start at 12:45 p.m. All families and children are welcome. The event is sponsored by the St. Mary's Church School. BYOB (Bring Your Own Basket!)