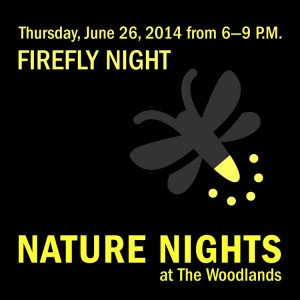 Some of you may remember last summer's Firefly Night held at the historic Woodland Cemetery's grounds. Following this fun tradition, The Woodlands is kicking off a series of free events this week that would help bring local residents closer to nature and enjoy each other's company. Nature Nights will take place on June 26, July 24, and August 21, from 6 to 9 p.m.. Each summer month, you'll have an opportunity to learn more about the urban ecosystem and the creatures that are part of it: fireflies, moths, and bats.
The Firefly Night kicks off the series this Thursday and here's what you should expect:
• Pack a picnic and bring your flashlights
• Spend the evening inside The Woodlands after dark searching for fireflies
• Educators from The Academy of Natural Sciences of Drexel University will be on site to tell you more about the way animals, including fireflies, communicate and attract mates
• Sweet treats from Lil' Pop Shop will be available for sale throughout the evening.
For more details and other upcoming events at The Woodlands, check out this page.