September is here, which means kids go back to school, but also some local kids' recreational and after-school programs resume. Here's a reminder of two great youth soccer programs in the area for those families who are looking for sports or recreational activities for their children this Fall.
Clark Park Youth Soccer League (updated)
Update (9/11/2014): Registration for the Fall season of Clark Park Youth Soccer is now open. Click here to register online. The program is also seeking volunteer coaches. If you know a little bit about the game and like running and having fun with kids, email: clarkparksoccer@yahoo.com
9/2/2014: The Clark Park Youth Soccer League (CPYSL) is a program of Friends of Clark Park (FOCP) designed for kids ages 5-11. The Fall season of the program starts on Saturday, Sept. 27 and goes on until Nov. 22. Soccer instruction and games (90-minute sessions) are offered every Saturday in the Clark Park bowl at 45th and Chester. Mornings (10:30 a.m. – Noon): ages 5-6.5 and ages 6.5-7. Afternoons (Noon-1:30 p.m.): ages 8-9 and ages 10-11. This is a low-cost program. The fees include a $20 seasonal (fall or spring) fee for the first child and $10 for each additional child and a $20/year FOCP family membership fee if you have one child enrolling in the program ($25 for families with two or more kids in the program).
Please note that CPYSL is a volunteer-run program and relies on the help from parents and other adults. Adults are invited to assist with coaching or to help with the administrative work.
Visit this page for more information and to download registration forms.
Soccer Shots at Cedar Park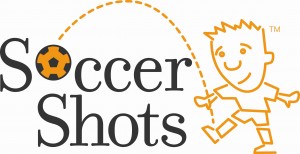 Soccer Shots is a positive introduction to soccer for toddlers and preschool aged children (ages 2-4). The program has opened registration for the fall season in West Philadelphia. The fall season starts on Saturday, Sept. 6 and ends on November 8. Soccer Shots focuses on the skills and lessons of the game by offering non-competitive classes. Each child learns the fundamentals of the game through skill instruction, fun games, and creative play. Classes are offered on Saturdays, from 9 – 11 a.m. (30-40 minutes of soccer instruction) at Cedar Park (50th and Baltimore). Spots are still available for some sessions. The fee is $120 per child and you can register online (click here to register).
Soccer Shots also has programs in eight other areas of the city and you can search for all of their programs on their website at www.soccershots.org/philadelphia.
If you have any questions, please contact Soccer Shots at: philly [at] soccershots.org or 267-630-1557.