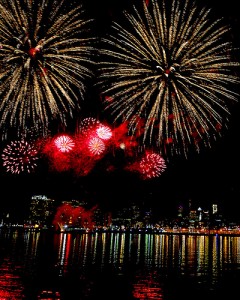 Check out New Year's Eve and New Year's Day events and other useful information below. Before heading out the door please make sure to dress warm since it will be extremely cold outside. Happy New Year!
Sunday, Dec. 31
New Year's Eve Fireworks
You can ring in 2018 twice during SugarHouse Casino's New Year's Eve Fireworks on the Delaware River Waterfront. There will be two free fireworks shows along the Delaware River – at 6 p.m. and midnight. For more information, go to: www.visitphilly.com/events/philadelphia/new-years-eve-fireworks.
Monday, Jan. 1
2018 Mummers Parade
Philadelphia's New Year's Day tradition lives on! Mummers Officials and the city decided that the 2018 Mummers Parade will be held as scheduled on New Year's Day despite the frigid temperatures. The city is planning to have heating tents and warm buses along the route for the Mummers. The parade kicks off at 9 a.m. at City Hall and will end sometime before 6 p.m. at Broad St. and Washington Ave.  Continue Reading