Several Easter Egg hunts will be held this weekend – at local parks, schools, churches and libraries. Check out the list below for more details. If you know of more egg hunts happening this weekend feel free to post them in the comments section below.
Saturday, March 31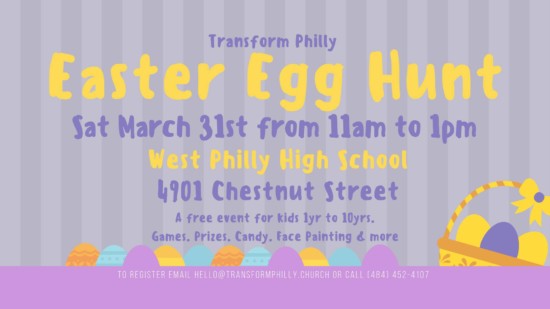 West Philly Egg Hunt with 10K eggs, West Philadelphia High School (4901 Chestnut St)
11:00 a.m. to 1:00 p.m.
Transform Church is hosting its first annual "Epic Easter Egg Hunt" this Saturday at West Philadelphia High School. More than 400 children between the ages of 1 to 10 years old, invited from the neighborhood and area schools are registered to attend. Youth will search for over 11,000 eggs (including 300 golden eggs) in both the outdoor field and inside the gym of the school. Additional activities including face painting, games, and prizes will be held just after the egg hunts. Event registration is still open to the public. To register, email: hello@transformphilly.church or call (484) 452-4107.  Continue Reading