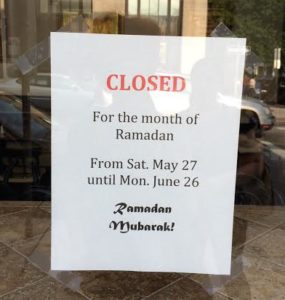 Our Muslim neighbors are observing Ramadan until June 25, and this is a reminder that some local businesses will be closed or will have special hours.
Saad's Halal restaurant (45th and Walnut) closed on Saturday and will reopen on Monday, June 26.
Manakeesh Cafe & Bakery (4420 Walnut St.) is closed during the day and open for dining from 8 – 10:30 p.m. Calls for pickup can be made after 6 p.m., and Iftar orders can be picked up after 7 p.m. The Dining Room opens at 7:30 p.m. Visit the restaurant's Facebook page for more information.