Here's a short roundup of some latest news from local restaurants, bars and cafés.
•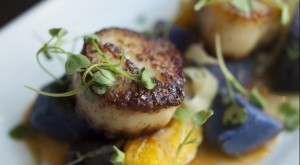 University City Dining Days kicks off this Thursday (July 16), with over 30 restaurants participating in the event. During the 11-day promotion, you can choose a pre-fixe three-course dinner menu best suiting for your wallet: for $15 – at Dahlak, Desi Village, Dock Street Brewery, The Gold Standard Cafe, New Delhi, Vietnam Café, and more restaurants; for $25 – at 48th Street Grille, Doc Magrogan's Oyster House, The Farmacy Rx, Han Dynasty, Harvest Seasonal, and more restaurants; or for $35 – at City Tap House, Distrito, Penne Restaurant & Wine Bar, Pod, and White Dog Cafe. Reservations should be made directly at participating businesses.
In addition, you can win some great prizes offered by the event organizer, University City District (UCD), including an iPod Touch, an Apple TV, and a $200 bundle of restaurant gift certificates. For more information go to: www.universitycity.org/university-city-dining-days.
• UCD has installed a new and the largest parklet in the area – on 40th Street between Walnut and Sansom, in front of the retail space that hosts several eateries, including Hai Street Kitchen, Jake's Sandwich Board, and Zesto Pizza. The new parklet, designed by Shift_Design, measures about 60 feet long and is among the longest parklets ever constructed. Now you can enjoy your sushi burrito outside.
•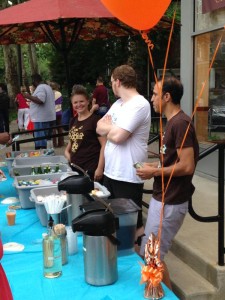 We've been keeping an eye on the progress of Cafe Renata's opening at the new location near 46th and Baltimore. As we reported earlier, Renata co-owners Katie Steenstra and Yasser Aiq, were planning to open the new location this summer, after their old space near 43rd and Locust was heavily damaged in a fire in March. They even participated in the recent Baltimore Avenue Dollar Stroll (pictured right). It turns out, the opening will not happen until later this summer because Katie and Yasser are busy preparing for a big personal event – they're getting married early next month! Once they're "refreshed with marital bliss" they'll be "back on the street" figuring out the opening date. We'll keep you posted. By the way, the name of the new place is Renata's Kitchen.
• The Gold Standard Café is hiring Front of House staff, including a busser/runner (for weekend brunch), a server (3-5 days a week), and a barista. Please drop off your resume in person at 4800 Baltimore Ave. or stop in and ask for an application on Monday-Friday from 10-10:30 a.m. or 2:30-5 p.m.. For more information, check out this Facebook post.