It's hard to believe it but The Porch at 30th Street Station is celebrating its 5th anniversary this week. It opened in the fall of 2011 and transformed a parking lot and a dangerous walkway outside of the nation's second busiest train stations into a vibrant and pedestrian-friendly public space complete with tables and chairs, umbrellas, swings and greenery.
The Porch's 5th Anniversary Party will be held on Wednesday, Sept. 28 (weather permitting) and will feature food, drinks, giveaways, and music. University City District (UCD), who operates and programs The Porch, is partnering with 33rd Street Hospitality and Jet Wine Bar to bring $5 food and drink specials in honor of the five years since The Porch debuted.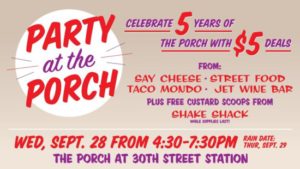 Since its introduction in 2011, The Porch at 30th Street Station has been offering seasonal horticulture, special events, and lunch service from local food trucks. The Porch was Philadelphia's first "lighter quicker cheaper" public space, and originally involved simple, cost-effective, and fully removable elements.
Five years later, The Porch has evolved into a more permanent mainstay, with elements contributed by Groundswell Design Group, Gehl Studio, and Visit Philly. The Porch has also cemented itself as a popular gathering space for commuters, local workers, and visitors to Philadelphia looking for a space to lounge and linger.  Continue Reading