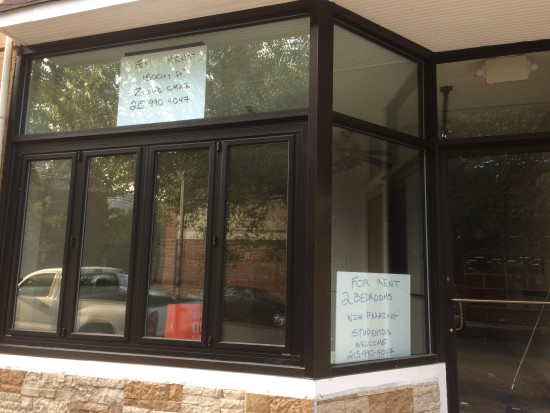 UPDATE (6/23/2016): Gangster Vegan Organics owner Vinny DePaul told Phillymag.com that he was planning to sign the lease for the storefront at 4305 Locust St. after it was fully renovated, but "started having issues with the landlord" and decided not to continue with his plans for the space. Instead, he's eyeing a new location in the area.
Looks like Gangster Vegan Organics, a restaurant and juice bar, is not coming to Locust Street as previously reported, and the space is now back on the market.
An employee at the only current Gangster Vegan organic location (in Norristown), said that "things didn't quite work out" with the building's owner, but West Philly is not completely out of the picture.
Gangster Vegan Organics is now focusing on their expansion in Phoenixville instead.
"For Rent" signs have recently been posted on the windows at 4305 Locust St. (pictured). The ground floor space has been renovated after the fire in March 2015 that forced Cafe Renata, which was renting it at the time, to relocate to Baltimore Avenue.
– Rana Fayez