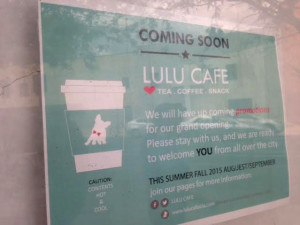 A new cafe that will offer tea, coffee, snacks and desserts is opening soon on the 4500 block of Walnut Street. The new establishment, called Lulu Café (as we understand, named after the owners' French bulldog) is expected to open this month at 4508 Walnut St., next door to Hunter Gatherer Tattoo and across the street from University City Chinese Christian Church.
The full menu hasn't been posted yet, but it will include varieties of tea (caramel milk tea, sea salt green tea, plum tomato green tea), coffee (sea salt iced coffee), blended drinks (mocha, watermelon, pistachio), and snacks (popcorn chicken).
According to its website, the Chinese owned business is currently hiring part-time and full-time employees (speaking both English and Mandarin is a must; email: lulucafeusa@gmail.com for more info).
For more information and updates, visit Lulu Café website or Facebook page.