There are a couple of things we wanted to mention as the weekend rolls in.
There are only three days left for University City Dining Days when you can enjoy dinner at 27 area restaurants for three fixed prices: $15, $25, and $35. The annual Dining Days will run through July 27. More info and the list of participating restaurants is available here.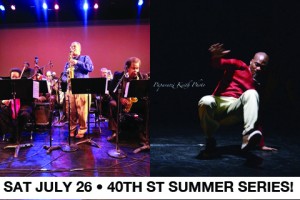 The second concert in the 40th Street Summer Concerts series is scheduled for this Saturday, July 26. Bring your blanket or chairs to the lawn behind the Walnut Street West library at 40th and Walnut and enjoy live music by Avalon String Band and the fusion act - Raphael Xavier W.O.R.X. Meets Bobby Zankel & The Warriors of the Wonderful Sound. The show, which begins at 6 p.m., also features free treats from Ben & Jerry's and face painting and balloon animals for kids.
The next 40th Street Summer series concert is on August 30, featuring Nation Beat. More details are available here.