If you're looking for ways to cope with the upcoming presidential inauguration (we're in West Philly, right?), check out these local events on Friday, Jan. 20. There will be an opportunity to have a conversation with other community members, to relax with some free acupuncture treatments, and dine at a local restaurant in support of refugees.
West Philly Community Solidarity Gathering
Calvary Center for Culture and Community (48th and Baltimore)
5:30 – 8 p.m.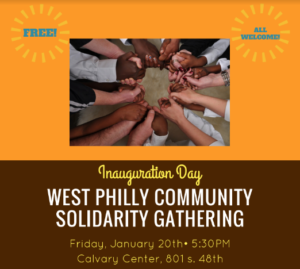 Join your West Philly neighbors for an evening of solidarity, connection, conversation, song and food. Everyone is welcome, including young people accompanied by parents or caregivers. The schedule includes: Gathering and Interfaith Service at 5:30 p.m; Dinner and discussion groups at 6:30 p.m.; Singing and more conversation at 7:30 p.m.
Free-will donations at the door will be collected to cover expenses and to benefit the Council on American-Islamic Relations (CAIR). Suggested donation range is $5-25, and no one will be turned away due to financial restrictions.  Continue Reading