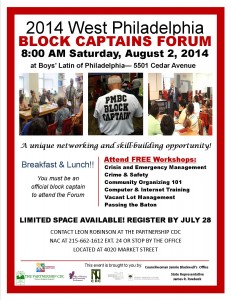 The 2014 West Philadelphia Block Captains Forum will take place August 2 at Boys' Latin School (5501 Cedar Ave) and registration is open until Monday, July 28. The forum, organized by The Partnership Community Development Corporation (TPCDC), is a great networking and skill-building opportunity for local block captains, filled with useful free workshops , such as Crisis and Emergency Management, Crime and Safety, Community Organizing 101, Vacant Lot Management and more.
Breakfast and lunch will also be served at the event. Click here to download the registration form. Note: only official block captains can attend this event.
For more information or if you have questions, please contact Leon Robinson at the TPCDC Neighborhood Advisory Committee office at: 215-662-1612 ext. 24 or stop by the office located at 4020 Market Street.