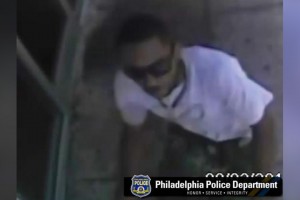 Police are still looking for the man who stole a bag filled with gold jewelry from a car parked near 52nd and Market Streets on September 2, at about 12:40 p.m. It was reported earlier this month that there was surveillance video of the incident, but the video wasn't released until yesterday.
Southwest Detective Division is seeking public help in identifying and locating the person seen in the video who, police say, smashed the front passenger side window with a hammer, took a blue duffel bag with various gold jewelry items, worth approximately $66,000 (previously, it was reported that the value of the stolen jewelry was over $100,000), and fled on a bicycle.
The 74-year-old owner of the bag parked his car and went to the nearby Cash For Gold store to conduct some business, according to police. He was at the store for about 5 minutes, during which the theft took place.
If you have any information about the suspect, please contact Southwest Detective Division at 215-686-3183/3184.
Here's the video: