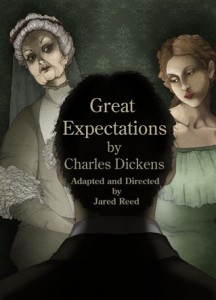 Curio Theatre Company's staging of Great Expectations continues with performances tonight, tomorrow night and Saturday. All three performances begin at 8 p.m. and so far the play, which is adapted and directed by Jared Reed, has gotten rave reviews. Theater criticism is not our strong point so we turned to folks who know more than we do.
Here is a comment from Roger:
"The plot is complicated, the actors play multiple characters, the performance is "in the round," and the show lasts almost three hours! I went last Saturday night, dead tired … and found myself riveted to the action, enjoying every minute! The Curio people never cease to amaze … each time the old sanctuary at Calvary has a new set-up and each production presents something totally new and exciting. We have one of the best theatre companies in the city, and it's all right here at 48th and Baltimore."
Tickets are $10 to $15.