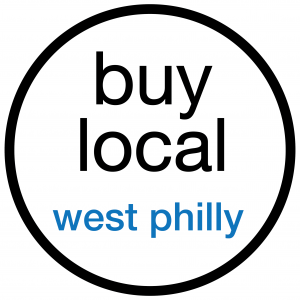 "Shopping local is a way to keep more of your dollars in your own community… Dollars spent at a "mom and pop" directly support a local family, who then support other local businesses… Shopping local is a vote for individualism, creativity, sustainability and independence."
– Emily Dorn, owner of VIX Emporium
"Shopping locally for the holidays means you can find something truly unique for everyone on your list – while supporting your local community."
– Annie Baum-Stein, Milk and Honey Market
Our annual "Buy Local for the Holidays" campaign is part of our effort to help local businesses thrive. Please support local businesses by doing as much of your holiday shopping as possible in your neighborhood. You can buy gifts, locally produced food items, dine/book a holiday party or pamper yourself or loved ones for the holidays at a bunch of West Philly businesses. By shopping locally you keep your money where you live.
You have the power to make your neighborhood a great place to live.
Our campaign partners share our commitment to sustainable neighborhood businesses. Check out their holiday messages below and please consider shopping locally this holiday season.
Baltimore Avenue Business Association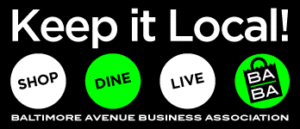 There's more to explore on Baltimore Avenue. You never know what's in store! Find a bookstore, pet boutique, co-op grocery, game store, restaurants, cafés, artisan's gallery, art gallery, shared office space, studio space, pharmacy, theater, brewery, bicycles, ice cream, tacos, hair styling and more. The Baltimore Avenue businesses invite their neighbors to invest in the future of the neighborhood by shopping the Avenue. BABA, the Baltimore Avenue Business Association, is a group of businesses located on Baltimore Avenue. Start exploring now on www.BABAWestPhilly.org.
Clarkville
43rd and Baltimore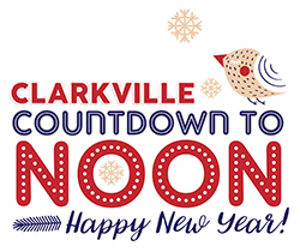 CLARKVILLE'S NEW YEAR'S EVE COUNTDOWN TO NOON
Monday, December 31 / Starts at 11 a.m.
Clarkville is home to many many future beer enthusiasts… and this party is just for them! Bring the whole family and COUNTDOWN TO NOON with us on New Year's Eve! Stop by for kid meal specials, to mix and mingle with SANTA CLAUS and let the juice boxes flow at this special neighborhood tradition!
Buy Gift Cards at Clarkville.
Local 44/Bottle Shop 
4333 Spruce Street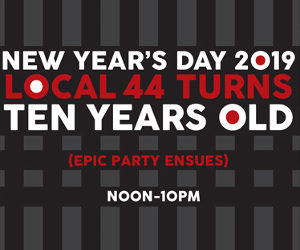 NEW YEAR'S DAY – LOCAL 44 TURNS 10 YEARS OLD!
Tuesday, January 1 / NOON-10 p.m.
Join Local 44 for a week of amazing beer on tap celebrating our TENTH anniversary plus an all day party starting at Noon on New Year's Day! Get here for a spectacular draft list, all day raffle prizes and so much more!
Buy Gift Cards at Local 44.
Philly Homebrew Outlet West
1314 S. 47th Street
http://www.phillyhomebrew.com/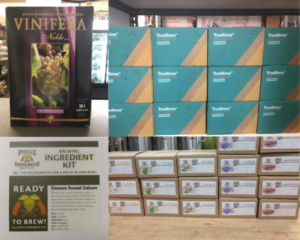 Holiday Gifts Galore at Philly Homebrew Outlet!
We are now stocking a large selection of ingredient kits for beer, wine, and soap. These kits make great gifts for new and experienced homebrewers!
Wine Kits:
We are stocking some new Vinifera, Summer Breeze, and Renaissance wine kits in all three of our locations. You can pick up one of the new kits and grab some our fresh juice to go along with it. Before you know it you'll be sipping some fine wine at dinner time!
TrueBrew Beer Kits:
These new beer kits come in a variety of styles and contain all the ingredients you need on your brew day. TrueBrew kits are a great starting point for people new to brewing and are great for experienced homebrewers interested in trying a new style!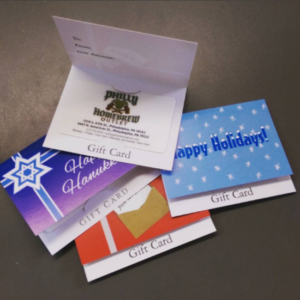 PHO Beer Kits:
These are our made-in-house beer kits! All recipes were originally brewed by a Philly Homebrew employee and went through a rigorous taste test to be made into a kit. Okay maybe the test wasn't all that tough, but these kits have the special Philly Homebrew touch. Between the PHO and the TrueBrew kits, great tasting beer is only a few steps away!
PHO Soap Kits:
With these kits, making soap at home is easier than you think! The kit contains all of the ingredients you'll need to make your own beautiful, hand crafted soap. Each kit yields 12 bars of soap, so you can stay clean and smell nice throughout the holidays!
Also check out our web store! Gift cards are also available.
Renata's Kitchen
4533 Baltimore Avenue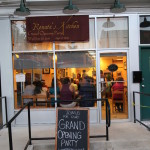 Happy Holidays from Renata's Kitchen!
Our gift cards are in stock and ready to be gifted! Party catering is also available.
Have an event coming up soon? Try Renata's Kitchen for catering.
We specialize in catering for both small and large groups, providing drop off catering for breakfast, lunch and dinner. Contact a catering specialist Monday through Friday 9am-5pm at 267-275-8254 or email us at catherine@renataskitchenphilly.com to put your next catering package together.
For more information about Renata's Kitchen, visit: http://www.renatas-kitchen.com.
VIX Emporium
5009 Baltimore Avenue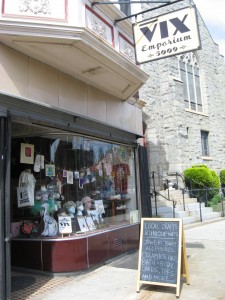 VIX Emporium is West Philly's go-to spot for unique, locally made gifts and cards. Everything is produced by over 200 independent artists, craftspeople and small businesses, primarily from the Philadelphia area. The mix at VIX includes artisan jewelry, functional handmade ceramics, home wares, art prints, accessories, natural bath & body products, candles, baby gifts, holiday decorations and more. The storefront itself, a former 1940s millinery with original built-in cabinetry, inspired the Emporium's name — VIX (with a bar over the V) is the Roman numeral for 5009, its Baltimore Avenue address.
Our special holiday shopping event, West Craft Fest, will take place on Sunday, Dec. 9, 10 a.m. – 4 p.m. at The Rotunda (40th and Walnut). Find unique, creative wares by dozens of local makers! Go here for more information.