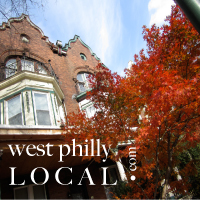 West Philly Local is a locally owned community news website that began in December of 2010. As residents of a West Philly neighborhood, we noticed an absence of timely information on everything from schools to crime to arts and culture in a neighborhood that is undergoing a lot of change. Our coverage area is roughly from the Schuylkill River to 52nd Street and Market Street to Woodland Avenue, including the following West Philly neighborhoods: Spruce Hill, Cedar Park, University City, Powelton Village, Garden Court, Squirrel Hill, Walnut Hill, and Woodland Terrace. We understand that this is only a portion of West Philly and we hope to expand that area as we grow.
Our goal is to provide timely information, news and announcements to all of the residents of the neighborhood. Our most important contributors are you, the readers. Please feel free to write us anytime.
Here are some addresses:
Tips/Photos/Video
Tell us about what's going on or send us your videos and photos: editor@westphillylocal.com
Advertising
An important part of our mission at West Philly Local is to connect residents to local businesses. We firmly believe in buying local, so local businesses are our only advertisers. We will work with local businesses to create campaigns that include display and social media advertising. Along with our main site, we have a robust and active presence on social media channels, including Facebook and Twitter. West Philly Local receives over 40,000 monthly visits. For more information on sponsorship write: ads@westphillylocal.com
Classifieds
To post a classified, please visit this page. If you have questions, write: classifieds@westphillylocal.com
Subscribe
To receive a daily digest of our stories, subscribe here.
West Philly Local publishers
Julija Kulneva
Julija is responsible for web development and business side of the site (although she writes a lot of stories too). She honed her journalism chops at The Baltic Times, an English-language newspaper in Eastern Europe. Julija feels right at home among the trollies of West Philly as they remind her a lot of the old country.
Mike Lyons
Mike worked for more than a decade as a journalist, most recently for the Associated Press in Eastern Europe. He also worked for newspapers in Alaska, the British Virgin Islands and Pennsylvania. A graduate of Temple University, Mike returned to Philadelphia because he just couldn't stand to be away from SEPTA any longer.
Contributing writers
Annamarya Scaccia
Annamarya Scaccia is an award-winning freelance journalist and graphic designer who's lived in West Philly since moving to the city over five years ago. The Brooklyn, Ny. native has written extensively on civil rights, reproductive health, women's issues, sexual violence, and the local music scene, and has served as editor-in-chief of the now-defunct Philly music mag, Origivation, as well as assistant editor of The Deli Philadelphia. Her work has appeared in Philadelphia Weekly, Philadelphia City Paper, Prince George's Suite Magazine, RH Reality Check, and BLURT. Follow her on Twitter @sitswithpasta.
Jen Horner
A native of South Jersey, Jen has been living in the Spruce Hill neighborhood since 1997. She is a freelance data manager, now-and-then adjunct professor, part-time nanny, baked goods deliveryperson, and homemaker. She also writes the occasional restaurant review.