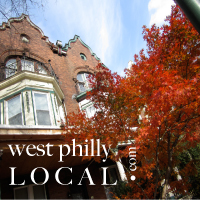 West Philly Local is a locally owned community news website that began in December of 2010. Our coverage area is roughly from the Schuylkill River to 52nd Street and Lancaster Avenue to Woodland Avenue, including the following West Philly neighborhoods: Spruce Hill, Cedar Park, University City, Powelton Village, Garden Court, Squirrel Hill, Walnut Hill, and more.
Our goal is to provide timely information, news and announcements to all of the residents of these neighborhoods. Our most important contributors are you, the readers. Please feel free to write us anytime.
Here are some addresses and other important information:
Tips/Photos/Video
Tell us about what's going on or send us your photos and videos by email: editor@westphillylocal.com You can also connect with us via Facebook or Twitter.
Advertising
West Philly Local receives over 50,000 visits per month and has over 10,000 Twitter followers and Facebook fans. Our website is known citywide, and our stories are regularly shared and linked to by such community and news organizations as University City District, Plan Philly, Philly Curbed, Philadelphia Magazine, City Paper (before it ceased to exist in Fall 2015), Philly.com and more.
Since our launch on 2010 we have partnered with numerous local businesses and organizations, including: Spruce Hill and Garden Court Community Associations, Baltimore Avenue and Lancaster Avenue Business Associations, University City District, Curio Theatre, Mariposa Food Co-op, Greensgrow Farms, Penn Museum, The Woodlands, Kleinlife, and dozens of local restaurants and shops.
Online advertising is one of the most effective ways for businesses of all sizes to expand their reach and find new customers. We're here to help you connect with local residents who live within walking distance of your business. Our readers visit the site regularly and would love to know more about your business or your happenings and offers.
We also welcome advertising from Philadelphia-based businesses and organizations that want to reach West Philly residents and communities.
Please contact Julija Kulneva at: ads@westphillylocal.com or 215-882-3759 for a price quote.
Classifieds
To post a classified ad, please go to this page. If you have questions, email: classifieds@westphillylocal.com
Events
For information about local events, please visit our Events page. To submit an event, click here.
Subscribe
To receive a daily West Philly Local email newsletter, subscribe here.
Comment Policy
To read our Comment Policy please click here.
West Philly Local publishers
Julija Kulneva
Julija is responsible for web development and business side of the site (although she writes a lot of stories too). She honed her journalism chops at The Baltic Times, an English-language newspaper in Eastern Europe. Julija feels right at home among the trollies of West Philly as they remind her a lot of the old country.
Mike Lyons
Mike worked for more than a decade as a journalist, most recently for the Associated Press in Eastern Europe. He also worked for newspapers in Alaska, the British Virgin Islands and Pennsylvania. A graduate of Temple University, Mike returned to Philadelphia because he just couldn't stand to be away from SEPTA any longer.