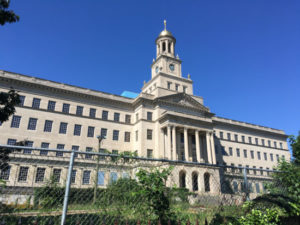 City Council formally approved the sale of the sprawling Provident Mutual Insurance Co. building and surrounding land on Thursday, clearing the way for the long-anticipated development of the site.
Iron Stone Real Estate Partners has been shopping its plan to develop a healthcare campus on the site in collaboration with Public Health Management Corp. and The Children's Hospital of Philadelphia around to neighborhood groups and public meetings since September 2018.
Last year, the city selected the proposal, which included an approximately $10 million sale price, after a bidding process that began in 2017. 
Thursday's vote followed several contentious public meetings where residents questioned the $10 million sale price of the land and the project's benefit to surrounding neighborhoods. Councilwoman Jannie Blackwell blocked a vote in December in City Council, saying she wanted more public input.
The Walnut Hill Community Association signed an agreement with the developers last month that included stipulations on local hiring, community space within the 325,000-square-foot main building, publicly accessible green space and financial support for the association's charitable activities.