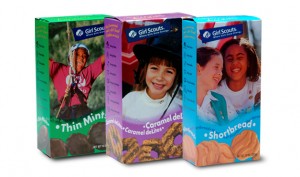 The girl scout cookie season is here! Starting Thursday, Jan. 17, local girl scout troops (Junior 91143, Brownie 93273, and Daisy 91569) will be selling cookies Monday through Friday, 4-6 p.m. for a couple of weeks (or until they run out) at the following locations:
• 34th & Walnut
• Locust Street between 43rd and 42nd (between Penn Alexander School and the Parent Infant Center)
Boxes are $4 each, except $5 for gluten-free cookies. Large amounts can be delivered. Please email: ucalgirlscouts@gmail.com if you have questions and to place your order.
Cedar Park residents are welcome to stop by VIX Emporium (50th and Baltimore), which will also be selling girl scouts cookies beginning this Thursday. Check out the store hours here.
In the past few years, girl scout cookies were also available for sale at The Fresh Grocer at 40th and Walnut. We'll keep you posted about more locations.