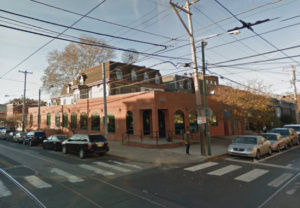 The Millcreek Tavern at 42nd and Chester Ave. will soon be gone and a five-story, 42-unit residential building aimed at students could soon take its place.
Developers pitched a preliminary plan to the Spruce Hill Community Association zoning committee on Monday night for the building, which would require variances for height and number of units. Representatives of Core Development told the committee that they purchased the building about 10 days ago, are in the "very early conceptual stages" and have yet to apply for the variances. 
The informal presentation was to gauge initial reactions from the zoning committee and nearby residents.
Core Development owns and manages other properties near 42nd and Chester, including 4134 Chester and 4213 Chester, which are aimed at University of the Sciences students.
The proposal for Millcreek property includes 5,500 square feet of ground floor commercial space that could include a "neighborhood restaurant," according to developers.
Core Development has no plans for affordable housing and estimated that studio units would go for $950 per month; one-bedrooms for $1,250; and two-bedrooms for $1,500.
The developers say they will apply for zoning in January or February. At least one more public meeting will be scheduled for the project, so stay tuned.