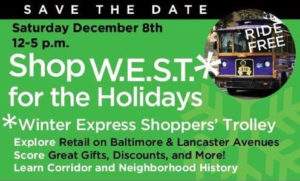 Just in time for your holiday gift shopping, the Winter Express Shoppers' Trolley (W.E.S.T.) will return Saturday (Dec. 8), 12-5 p.m., to offer free rides along Baltimore and Lancaster Avenues. This is a great opportunity to learn more about local businesses, meet the owners and explore gift shopping and dining opportunities on the avenues.
The trolley will stop at designated shopping and dining destinations, and businesses will welcome riders with specials, promotions and giveaways, like free seasonal beverages and festive baked goods. There will be great gift shopping opportunities, discounts, and more! Get your ticket stamped at listed businesses for a discount at each one (see the full list and map here).
Riders will also get a chance to learn more about the business corridor and neighborhood history while riding the trolley.
The trolley will run every hour from 12-5 p.m., departing 51st and Baltimore (Greensgrow West) on the hour and 35th and Lancaster on the half hour.
The Baltimore Avenue and Lancaster Avenue Business Associations are teaming up to host this annual event (the first W.E.S.T. event was held in 2016). For more details and updates, visit the Facebook event page.