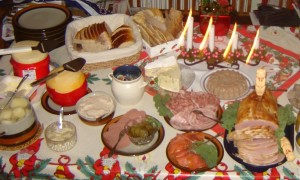 The annual Holiday Basket Drive organized by Cedar Park Neighbors is back. This year, CPN will be partnering again with local nonprofits and various places of worship to provide food baskets to neighbors in need during this holiday season.
Last year, the organization was able to reach over 150 local families – a great testament to the community's willingness to help others.
Just like last year, a suggested donation for this year's drive is $36. Support at this level will provide baskets to two families. Donations can be made on this page. For other ways to donate (including bulk items), please email Michelle Lewis (mlewis1071@gmail.com). 
Volunteers are also welcome to join CPN to help package and distribute the baskets on Saturday, Dec. 22, from 8:30-10:30 a.m. at Renewal Presbyterian Church (47th and Cedar). Please feel free to contact CPN at holidaybasket@cedarparkneighbors.org if you have any questions.