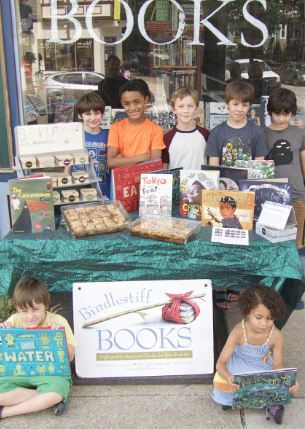 This Saturday, you can enjoy delicious baklava and support a local initiative that delivers books to two public school libraries.
Bindlestiff Books (4530 Baltimore Ave.) will hold a special fundraising event, Baklava Benefit Sale, on Oct. 27 from 10:30 a.m. – 3:30 p.m.. The event is organized by A Book A Day, an initiative co-funded by Penn Libraries, which donates newly published children's books to two K-8 schools in West Philadelphia – Penn Alexander and Henry C. Lea.
Since the launch of the program in 2014 over 300 books have been donated to the school libraries. Eight new, quality hardcover books are delivered to each of the school libraries every month, giving kids access to intriguing books on music, art history, poetry, and street art. 
While at Bindlestiff Books, also check out their Halloween display – the store's front window currently features a selection of children's books by Enchanted Lion Books. Many of their books are translated from around the world; their publisher recently spoke at the Penn Alexander and Lea elementary schools as part of the program. Everyone buying an Enchanted Lion book during the next month can choose a promotional item (posters, chapbooks drawn from forthcoming books, buttons, etc.) while supplies last.