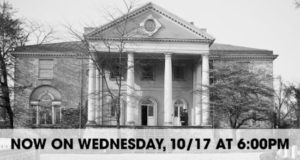 Fall is here, so it's time to celebrate harvest, get spooked, show off your costume, and engage in more fun fall and Halloween-themed activities. In this post, check out Fall events, including events for the whole family, happening at two historic places in West and Southwest Philly – The Woodlands Cemetery and Mansion (40th and Woodland) and Bartram's Garden (5400 Lindbergh Blvd).
HollyWoodlands
Friday, Oct. 12
6:00 –  9:00 p.m.
HollyWoodlands presents Buffy The Vampire Slayer on the big screen in the Hellmouth of The Woodlands. Showings begin at sundown. Watch three episodes of the 90's cult classic, and come dressed in your Buffy Best for a costume contest before the showing. $5 suggested donation. For more information, go here. 
Harvest Fest at Bartram's Garden
Sunday, Oct. 14
12:00 – 3:00 p.m.
Bring your family to the 2018 Harvest Festival at Sankofa Community Farm at Bartram's Garden. The event is filled with fun activities: Pumpkin carving, cider pressing, garlic planting, hayrides, food workshops, paddling on the river, and more. There will be an amazing concert from 3:00-6:00 following the festival. This is a family-friendly, fun and free event. More info is available here.
Special Tour: At Home with the Dead
Wednesday, Oct. 17
6:00 –  7:30 p.m.
In the Victorian Era, The Woodlands was a thriving rural cemetery, and within it, the Hamilton Mansion served a new purpose. Historian Aaron Wunsch will take you through the Hamilton Mansion as it was in the 1800's – the first funeral home. More information and tickets ($10-$15) are available here.
Halloween Family Fun Day
Sunday, Oct. 21
12:00 – 3:00 p.m.
This annual free family-friendly event will include the following activities: Halloween Scavenger Hunt (all day), All Hallow's Read: Spooky Book Swap (all day), Mini Mutter Museum Pop-up (all day), Bird Walks with Tori Bird (12:30 p.m. and 2 p.m.), Pet Costume Contest (judging at 2:30 p.m.). For more information, go here.
Mischief Night – Woodlands Members Cocktail Party
Tuesday, Oct. 30
6:00 – 8:00 p.m.
The Woodlands' Halloween Cocktail party is a free event for all members of The Woodlands. Check out the details here.
A Book Talk and Reception with Peter Manseau, Author of "The Apparitionists"
Thursday, Nov. 1
6:00 –  7:30 p.m.
The University of Pennsylvania Department of Religious Studies is bringing author Peter Manseau to The Woodlands for a book talk, signing, and reception. This event is free and open to the public. Click here for more details.
The Woodlands Gobble Wobble 5K
Saturday, Nov. 3
9:00 a.m. – 12:00 p.m.
The Woodlands fourth annual Woodlands Gobble Wobble 5K Fun Run is back! Registration is at 9:00 a.m. and the race starts at 10:00 a.m. The race takes place on the paved road within The Woodlands Cemetery, with the start and finish line near the Hamilton Mansion. Register early, because the first 100 people signed up will receive a limited edition Gobble Wobble pint glass. Registration info can be found here.