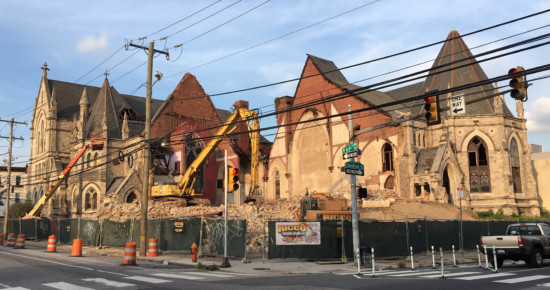 Demolition of the 19th century church at 43rd and Chestnut is well underway, and a large residential apartment complex is reportedly in the works to replace it.
A New York based firm, registered as 4233 Chestnut Street LLC, bought the 131-year-old Christ Memorial Reformed Episcopal Church property in June for a whopping $10.5 million, according to city records. The 37,000-square-foot property is zoned CMX-4, which allows multi-story apartment buildings. 
Several high-profile apartment buildings have either been completed or are proposed for the area around the church. In the past few years, construction on the apartment building across the street was completed, demolition of the Wash n' Lube Car Wash on the 4200 block of Chestnut cleared the way for a 6-story, 130-unit apartment building, and plans for a 165-unit building on the 4400 block of Chestnut were given tacit approval.
The future of the church had been in doubt for years, at least since the church's 170-foot-high steeple collapsed during an intense storm in 2004. The dwindling Christ Memorial congregation sold the church to local developer Guy Laren soon after the storm. The steeple base was shored up in 2015, but repairs on the rest of the church never followed. A variety of organizations have rented space in the church in recent years.