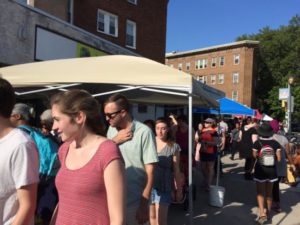 If you missed the first Baltimore Avenue Dollar Stroll in June, here's another opportunity to enjoy this great outdoor event. This year's second and final Dollar Stroll will take place Thursday, Sept. 13 from 5:30 to 8:30 p.m.
Over 30 businesses and food trucks will line up between 43rd and 52nd streets to offer $1 deals – from their signature food items, drinks and treats to memberships. The full list of participating businesses is available here; also check out the map below. 
It's good to see some new businesses participating in the event. For example, recently opened Loco Pez will be selling $1 tacos. Also, Curio Theatre's new season begins October 10th, so you can get preview tickets just for $1.
The event is organized by University City District (UCD) and Baltimore Avenue Business Association (BABA).