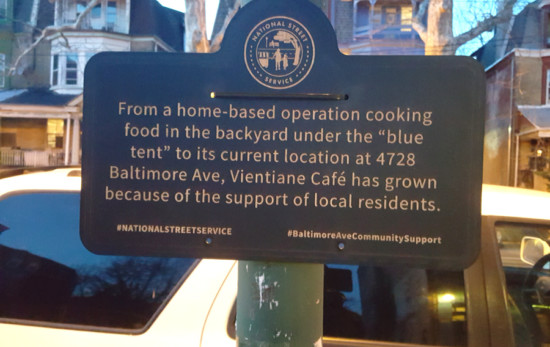 You may have noticed new street signs popping up outside of businesses in and around Cedar Park in the past few months. So here's the scoop. The signs are part of a project, "Humble Beginnings," sponsored by the National Street Service, according to the project coordinator and West Philly resident Brian Cirksey.
Three signs have been posted along Baltimore Ave from 47th to 50th so far, by Vientiane Cafe, Talking Heads hair salon, and Satellite Cafe. These businesses were able to tell their unique stories of how they began (humble beginnings), via in-person visits, phone calls, and emails, and this information was translated into these historical marker signs. 
And more signs are coming up soon! There is funding for eight additional signs, and once all the unique stories are collected, eight businesses will be chosen at random for the historical marker signs, according to Cirksey. Production and posting of new signs is expected to begin this week.