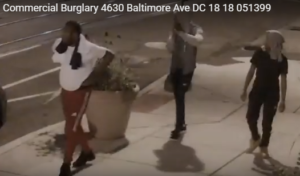 Police are looking for three male suspects in connection with a burglary at Aksum restaurant at 4630 Baltimore Ave. that happened in the early morning hours on Sunday, Aug. 12. One suspect entered the restaurant after breaking the front window with an object. He took cash and several electronic devices from the restaurant and passed them on to the other men who were waiting outside, according to police.
Police released surveillance video of the burglary where the suspects can be seen outside and inside the restaurant during the burglary (see below). 
Police are asking for the public's assistance to identify these men. If you have any information about this crime or these suspects, please contact Southwest Detective Division at 215-686-3183/3184.