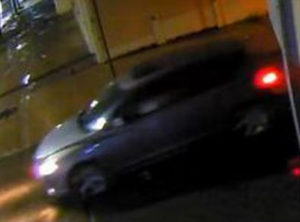 Police are now offering a $20,000 reward for information leading to an arrest of the driver involved in a fatal hit-and-run last month in West Philadelphia. Kenneth Whiters, 61, was struck on Lancaster Avenue near Aspen Street on July 22 at 3:14 a.m. by a vehicle, believed to be a Mazda 3 hatchback, that was traveling at a high speed west on Lancaster Avenue from Fairmount Street. The car fled the scene after the accident.
Police released surveillance video of the accident last month (see below). 
The victim was found lying in the bicycle lane by officers patrolling the area and was transported to Penn Presbyterian Medical Center where he later died.
The vehicle is believed to be silver with a sun roof and fog lights and possibly has damage to the hood and windshield.
Anyone with information about the vehicle or the accident, is asked to call 911 or 215-686-TIPS (8477).