Fast-casual D.C.-based pizza &pizza opened its second Philly location Tuesday at 3925 Walnut St., where popular gelato shop Capogiro used to be. Featuring their signature oblong pizzas in one size, &pizza offers unlimited toppings for a flat price as well as several standard options, both vegetarian and otherwise. They have vegan and gluten-free options; the vegan options, like soy-cheese, don't cost extra, but getting a pizza with the gluten-free pizza dough does.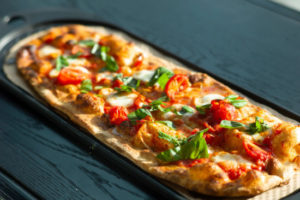 &pizza touts itself as a progressive, socially-conscious brand that pays its employees a living wage. They offer "best-in-class" benefits and, according to CEO Michael Lastoria, their goal is to be able to start all of their employees at $15 per hour in the next two years.
While &pizza will not be serving gelato as Capogiro did, they do have cookies and a "raspberry strudel" (more like a tart than a strudel).
Current hours of operation are 11 a.m.-11 p.m. Sunday through Thursday and 11 a.m. – 3 a.m. Fridays and Saturdays. For more info and menu, visit: andpizza.com. Check out more photos from the opening night below.
– Mike VanHelder