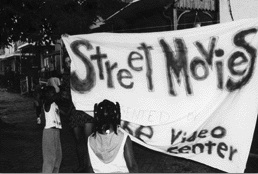 The annual Street Movies! program by the West Philly-based media arts organization Scribe Video Center that celebrates the cultural histories of Philadelphia neighborhoods, returns this month for its 21st season. The program features free outdoor film screenings and live performances at public parks across the city. This year, Scribe will present a range of short films, from internationally recognized award-winning fiction, documentary, and animation to local community- and youth-produced works.
Live performances will be by some of our region's most talented artists, including Philadelphia's first Poet Laureate Sonia Sanchez (who will be at Malcolm X. Park!), poet and recording artist Ursula Rucker, experimental music project Moor Mother by Camae Ayewa, bomba and plena group Los Bomberos De La Calle, Chinese dance studio L&M Dance Studio, singer and sound artist Jacqueline Constance, award-winning lyricist and author Lyrispect, and dance group Cambodian American Girls Empowering (CAGE). 
The program kicks off Thursday, Aug. 9 in North Philly. Don't miss the West Philly event with Sonia Sanchez on Saturday, Aug. 18 at Malcolm X Park (see more details below). Live performances start at 8:00 p.m. with the screenings starting when the sun goes down at 8:30 p.m. In case of rain, events will be held indoors.
Here's the full listing of this year's Street Movies! events:
Thursday, Aug. 9
NORTH PHILLY
Host: Uptown Entertainment Development Corporation
Location: Baba Yahya's Garden, 2229 N. Broad Street
Rain Location: African American United Fund's, 2231 N. Broad Street
Opening Performance: Moor Mother
Friday, Aug. 10
FAIRHILL
Hosts: HACE (Hispanic Association of Contractor Enterprises) Targeted Corridor Management Program
Location: 412 W Lehigh Avenue
Rain Location: 2622 North Lawrence Street
Saturday, Aug. 11
CHINATOWN
Hosts: Philadelphia Chinatown Development Corporation
Location: Holy Redeemer School, 915 Vine St, Philadelphia
Rain Location: Francis House of Peace, 810 Arch Street
Opening Performance: L&M Dance Studio
Friday, Aug. 17
FRANKFORD
Hosts: Frankford Community Development Corporation
Location: 4671-73 Paul Street
Rain Location: Downstairs Café, 4667 Paul Street
Opening Performance: Jacqueline Constance
Saturday Aug. 18
WEST PHILLY
Host: Friends of Malcolm X Park
Location: Malcolm X Park, 5100 Pine Street
Rain Location: Philadelphia Student Union, 501 S 52nd St
Opening Performance: Sonia Sanchez
Wednesday, Aug. 22
SOUTH PHILADELPHIA
Hosts: Friends of Mifflin Square
Location: Mifflin Square Park, 6th and Ritner Street
Rain Location: United Communities Houston Center, 2029 S 8th Street
Opening Performance: Cambodian American Girls Empowering (CAGE)
Thursday, Aug. 23
STRAWBERRY MANSION
Hosts: Strawberry Mansion Neighborhood Action Center, Amber Arts and the Fairmount Park Conservancy
Location: Hatfield House Historic House, N 33rd Street
Rain Location: Hatfield House Historic House, N 33rd Street
Opening Performance: Lyrispect
Friday, Aug. 24
NORRIS SQUARE
Hosts: Open Kitchen Sculpture Garden
Location: Open Kitchen Sculpture Garden, 2251 N Philip St
Rain Location: West Kensington Ministry, 2140 N Hancock St
Opening Performance: Los Bomberos De La Calle
Saturday, Aug. 25
GERMANTOWN
Hosts: Kelly Green Project
Location: John B. Kelly School, 5116 Pulaski Ave
Rain Location: John B. Kelly School, 5116 Pulaski Ave
Opening Performance: Ursula Rucker