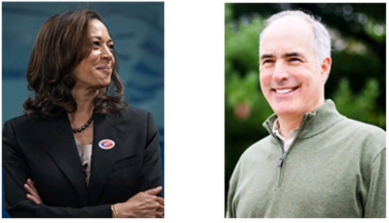 Senator Kamala Harris of California will join Pennsylvania Senator Bob Casey in West Philly this Friday (July 13) to talk about this November's mid-term election.
Harris, the former district attorney of San Francisco and California Attorney General, is poised to be a vocal opponent of President Donald Trump's Supreme Court nominee, Brett Kavanaugh.
Harris is campaigning on behalf of Casey, who faces Republican Lou Barletta of Hazelton this fall, and other Democrats in Pennsylvania, a key battleground state.
Harris and Casey will be at the First District Plaza at 3801 Market St. from 2:30 p.m. to 5 p.m. on Friday. You can RSVP here.