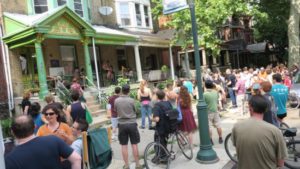 West Philly Porchfest, an outdoor DIY music festival, is returning this Saturday (June 2) with dozens of free shows scheduled from 12 to 6 p.m. This year, musicians and groups representing various musical genres will be performing on porches in the area stretching from Market Street to Woodland Avenue and from 40th to 52nd Streets.
The festival organizers have created a useful map showing host porch locations and show times. All performances are divided into three groups. From 12 to 2 p.m., shows will be held on porches on and south of Baltimore Ave. From 2 to 4 p.m., most performances will be held north of Baltimore Ave. between 48th and 52nd Streets. And finally, from 4 to 6 p.m., check out performances north of Baltimore Ave. between 40th and 48th Streets. There are a few exceptions though (one show will be held near 58th and Osage), so make sure to go to the West Philly Porchfest website to check out the map.
This is the festival's third year. Last year, 69 porches participated in the event.