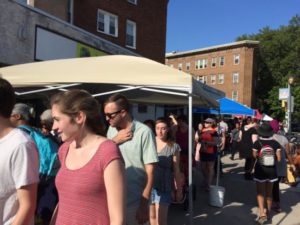 One of the most popular local shopping events of the year is returning this summer. University City District (UCD) has announced that Baltimore Avenue Dollar Stroll, where guests can enjoy $1 specials from dozens of neighborhood businesses – from food and drinks to merchandise and theatre tickets – will be held twice this year: on June 7th and September 13th. The event draws thousands of visitors each year and also includes live music and entertainment.
This year, the organizers want to make sure that all food vendors participating in this event are in compliance with Philadelphia Health Department codes and public safety regulations. Currently, UCD is accepting applications from temporary community food vendors to participate in this event as official participants. Selected vendors will be included on maps and marketing materials for the event. 
Vendors not in compliance with the Health Department codes and regulations will not be permitted to vend at the event.
"Representatives from the Health Department will be present during the Dollar Stroll to inspect vendors, and those not in compliance risk being shut down," reads a message posted on the UCD blog.
If you are interested in being a community vendor, please download the guidelines and application form here.
UCD and the Health Department will be hosting an informational session on Wednesday, April 11 at 2 p.m. at the UCD Office (3940 Chestnut St). Please contact Margaret Starke, UCD Event Planner, at Margaret@universitycity.org to sign up for this event.