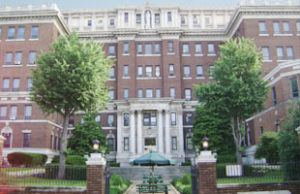 Mercy Philadelphia Hospital, located in West Philadelphia at 54th and Cedar, is celebrating its 100th anniversary this year and has some exciting news and events to share with the local community.
Last week, the hospital broke ground on a multi-million-dollar Emergency Department expansion and renovation project, the largest such investment in the department's history. The investment will dramatically increase the number of available beds, will create new offices and patient areas, and renovate existing facilities. Overall, the project will increase the size of the ED, making it more accessible to members of the community. 
Last month, the hospital renewed its certification with the federal Food and Drug Administration to perform mammography. The hospital's Department of Radiology passed its annual Mammography Quality Standards Act, an inspection performed by the FDA on an annual basis, with no deficiencies. The hospital offers 3D mammograms and walk-in mammography appointments. Learn more by visiting: www.mercyhealth.org/services/womens-health/breast.
The hospitals has also been offering free classes and workshops exclusively to the West Philadelphia community in a variety of categories: behavioral and mental health, nutrition and wellness, smoking cessation, women's health, and more. "Dine with the Docs" is a popular educational series which provides an opportunity for community members to learn about and discuss important health topics with Mercy Hospital physicians and clinicians and includes a free lunch. The next session is on Saturday, March 17 and is dedicated to colon cancer detection and treatment (click here to register). To learn more about this and other free community events at Mercy Hospital, go to: www.mercyhealth.org/classes-events.