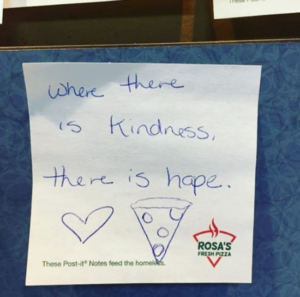 Rosa's Fresh Pizza, the no-frills dollar-slice pizza shop, opened its second location this month on 40th between Ludlow and Market. Rosa's is the brainchild of businessman Mason Wartman, whose claim to fame is appearing on the Ellen DeGeneres Show to talk about his restaurant's wall of pay-it-forward post-it notes. Each post-it represents a slice of pizza purchased by someone to feed the city's homeless population, and anyone who can't afford to buy food for themselves can take a post-it off of the wall and trade it for a slice at the counter.
Rosa's original location, in Center City near Jefferson Hospital at 11th and Ludlow, serves free slices to 50-100 customers a day. A person behind the counter at the new University City location who declined to give his name said that they had "some" people taking advantage of the free slices, but not as many as 30 or 40. "I guess people just haven't heard yet," he explained. 
It's worth noting that while Rosa's might have gotten national attention for its pay-it-forward post-its, it isn't the first shop in the neighborhood to let people buy food for future customers. Little Baby's Ice Cream, located at 49th and Catharine St., has a pay-it-forward wall where you can specify who gets the benefit of your generosity, whether it's anyone who wants one or even a specific individual.
Rosa's Fresh Pizza West Philly shop's hours are Monday-Thursday 11 a.m.-8 p.m.; Friday and Saturday 11 a.m.-10 p.m., and Sunday 11 a.m.-6 p.m. For more information, visit: www.rosasfreshpizza.com. You can also make donations online.
– Mike VanHelder
Editor's Note: University City District helped Wartman raise money for his West Philly shop hoping that it will help spark revitalization in the area where a lot of businesses struggle to stay open. You can read more about it in this Philly.com article.