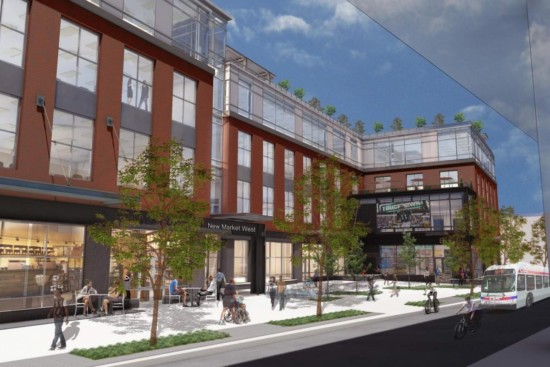 A new retail and community services complex is coming to West Philadelphia's Haddington-Cobbs Creek neighborhood. New Market West is a four story, 135,700 square foot hub which will be built on a 1.5 acre vacant site at 5901 Market Street, half a block from the 60th and Market Street El stop (see rendering).
The new building will house organizations focused on early childhood education, workforce development, educational and emergency support services, behavioral health service, and will include community-serving retail.
Governor Tom Wolf joined other state and city officials and representatives from local community organizations in a groundbreaking ceremony for the complex on Friday morning. During the ceremony, the governor announced the approval of $10.5 million in tax credits to support the project, in addition to the state's $5 million Redevelopment Assistance Capital Program investment announced in December.
This project, which costs $49.5 million, is a joint venture between Mission First Housing Group and Horizon House, two organizations with a long history of bringing affordable housing to people in need across Philadelphia. Now, with the help of community-based partner ACHIEVEability, the organizations have an opportunity to bring this work to the Haddington-Cobbs Creek community.
Construction on New Market West will begin next week and expected to be complete by Fall 2019.