It's summer camp sign-up time already. A West Philly staple, Lavner Camps and Programs, is offering an expanded selection of specialty day camps for kids ages 6 to 15 on the University of Pennsylvania campus.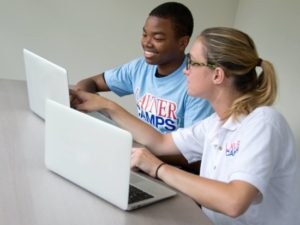 The program, which is accredited by the American Camp Association, has expanded over the last few years and now offers over 35 summer enrichment camps in sports, technology, the arts and education at 12 Philadelphia Metro area locations and 21 locations throughout the United States – in New Jersey, Delaware, New York, Maryland, Washington DC, St. Louis, Nashville and Los Angeles.
One of the first camp locations was the University of Pennsylvania, which hundreds of campers enjoy each summer.
"We started with a tennis camp geared towards junior tennis tournament players. We had lots of top ranked players in Philadelphia, Middle States, and the United States," says Lavner Camps founder and CEO Justin Lavner, who grew up in the Philadelphia area and is a Penn graduate. 
Each summer, Lavner Camps on the Penn campus offers over a dozen technology camps, including web and video game design, robotics, and programming. Creative arts camps at UPenn include Acting, Fashion Design, Filmmaking and Jewelry Design. Campers can also learn Spanish, creative writing and even magic!
For Summer 2018, Lavner Camps at Penn is offering a lot of new programs, such as Sports Analytics Camp, Robotics Camps with Artificial Intelligence and VEX IQ, National Minecraft Camp Tournament Week, Minecraft Channel For YouTube, Augmented Reality Camp with Game Design, Hand Sewing Camp With Stuffed Animals & Doll Making, and Graphic Design Camp with T-Shirt Customization.
For families who can't afford a full tuition, Lavner Camps offers a financial aid program, but it has currently reached capacity for this year (the application period opened on January 4th).
"We receive hundreds of inquiries each year. We are hoping to add more spots for next year," Lavner says.
Families can take advantage of a variety of discounts to save on camp, including early registration, multi-week, additional sibling, and a referral program. Early registration is open until March 1, 2018.
It's worth noting that the ACA accreditation ensures that Lavner Camps are well-run and safe for kids (1:8 staff to camper ratio is required).
For more information and to register for Lavner Camps, go here. The 2018 Summer Schedule at Penn (from June 18 to August 24) is available here. Please also check out our Summer 2018 Camp listings here.