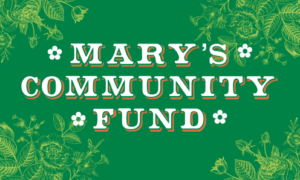 For the second year in a row, Greensgrow Farms is offering community beautification mini-grants to residents representing a specific neighborhood or organization in Kensington, the Riverwards, and West Philadelphia. The grants are provided by Mary's Community Fund, a legacy project that continues the work of Mary Seton Corboy (1957-2016), the founder of Greensgrow and a visionary in supporting a greener Philadelphia.
Grants up to $1,000 are available for the following types of projects:
• Improvement of neighborhood public spaces;
• Community beautification;
• Nurturing a shared sense of neighborhood identity and community pride 
Churches, schools, non-profits, block captains, and other community-based groups that have assembled a team of people willing to work together on the project are all eligible to apply. Applicants can find out more about eligibility, funding guidelines, get project ideas and fill out the application on the Greensgrow website here.
Applications are due on March 1st, 2018. Grantees will be announced at Greensgrow Spring Opening events on April 7th.